Well, I certainly have to participate this week, as Leslie asked a question I'd suggested! Go on over and participate!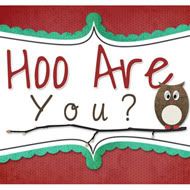 Here are this weeks questions:

1. What is your favorite craft or type of craft and if you are a crafter,how did you get into it?
2. What shows have you been watching this summer?>
3. Who does the yard work at your house?
4. Are you working on any projects inside the home or outside this week?
5. Do you have to worry about getting ready for back to school?


And here are my answers:

1. I do all kinds of crafts. I used to homeschool my teen until we moved to Wisconsin where the schools are oh so much better than Arizona. Crafting was a big part of our lessons It's always more fun to learn if you can make something while you're doing it. My favorite is machine embroidery. I actually have a website where I sell monogrammed and personalized towels, baby stuff, lots of cute things. I needed a sewing machine, so hubby took it upon himself to get me one for Hanukkah one year. I guess he thought just a sewing machine was too boring so he got me one that does machine embroidery too. I've been hooked ever since! My second fav is paper quilling. I also make cards, etch glass, and try lots of new things.
2. Oh thank heaven for Tivo! We watch a lot of SyFy channel programs, Haven, Eureka, Alphas, So You Think You Can Dance, Warehouse 13, Master Chef. There are more but most are not playing in the summer.
3. We have someone mow our grass. In Arizona we didn't have grass and now our yard is huge! It takes a riding mower to get it done. So we haven't purchased one of those yet!
4. No projects this week. It's too hot. We've had heat advisories out all week. Besides, the kid has been keeping me too busy being a mom taxi! LOL
5. Yes, we start school in a month. I'm sure we'll need new jeans and lots of supplies!

Have a great week!