Here are 2 cards we've made recently. I purchased a Martha Stewart scoring board and made lots and lots of paper rosettes. I even got my teen making them! So we put together these two cards and decided to post them to a few challenges just for fun.
Mom's card
Daughter's card
Once you get the hang of it, using the scoring board makes rosettes much easier! The only problem I had was figuring out the paper sizes. I have been trying every size of paper I can think of to make the smaller rosettes for cards. This was my first attempt!
As you can see... I still need to do some tweaking! So here goes!
For the smaller rosettes, I tried useing 1 by 6 light weight scrapbook paper. I had 2 problems with this. The lightweight scrapbook paper is too light. If you press the least bit hard on the scoring board you rip the paper. There goes those flowers! Secondly, 6 inches is just a tad too short if your paper width is 1 inch. Once I was finished scoring, I cut my 6 inch paper into a 3/4 inch strip. Accordion fold on the score marks. Pull the two ends together and match up the valleys and mountains to glue. Then gather it all together and pull out until you have a rosette. Use a small circle of card stock on the underneath to glue it all together.
This blue rosette was 8 inches by 3/4 inches. It was scored on the black marked lines on the scoreboard, which was every 1/4 inch. The smaller rosettes were made using 6 inch by 1/2 inch paper. I even made a few from 8 inch by 1/2 inch and scored them every 1/8 inch. These were small and short. The larger rosette was made with 12 inch by 1 inch paper scored every 1/4 inch.
So now we have lots of rosettes for our next card making attempts!
We are submitting our cards to these challenges:
Party Time Tuesdays - Anything Goes
CPS Sketch 254
CES Challenges - Blues and Cream
C.R.A.F.T Challenge 143
Cure for the Winter Blues Challenge in the Moxie Fab World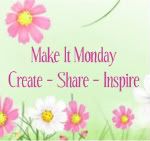 And daughter gets this for her participation! Yay!!