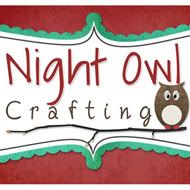 Here are this week's questions!
1. What are a couple of your favorite green foods?
Hmm.. green eggs? LOL, NOT! Broccoli, Kiwi, Cucumbers, do cabbage rolls count as green food? I like those too!
2. Do you decorate for St. Patrick's Day?
Not really.
3. Do you have Irish in you?
Not really.
4. Do you celebrate St. Patrick's Day?
Not really. Oh wait... I was on a roll! We wear green, that's about as far as it goes for us.
5.Use one word that represents each letter in the word LUCK in your life!
L: love
U: upbeat
C: cook... I love to cook!
K: that would be the first letter of my name!
Click the banner above for Night Owl Crafting to join in and see how others answer also! If you have a cool craft, link it up to her 'Hoo's Got Talent' day on Wednesday!